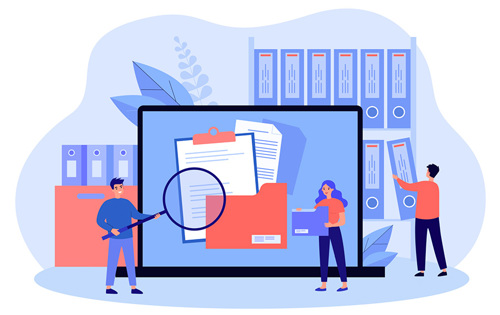 What is Intelligent Document Processing & How Does It Work?
Whether your enterprise is small or large, new or established, you likely perform business transactions using documents and data in three formats - electronic, soft, and hard. If you manage each document process individually and manually, you may be expending substantial resources on repetitive tasks. Intelligent Document Processing, or IDP, can help businesses handle volumes of documents in an accurate, reliable, secure, consistent, and efficient manner. If you want to learn more about intelligent document processing, you have come to the right place. In this guide, we explain intelligent document processing, how it works, when to use it, and how to find a solution for your business. 
What is Intelligent Document Processing?
Intelligent Document Processing is an innovative method for transforming semi-structured and unstructured information into actionable data. After data is input from electronic, soft, and hard sources, the information needs to be processed before it is ready for distribution and management. Intelligent Document Processing integrates with ERP, accounting, CRM, file sharing, ECM, shipping, email, and print channels to support all types of business processes. 
How does Intelligent Document Processing work?
Intelligent Document Processing uses Artificial Intelligence and Machine Learning technologies to recognize documents, modify data, extract meaningful information, and classify the information in an actionable format. 
Key Benefits of Intelligent Document Processing
IDP provides businesses with numerous advantages, including: 
Reduce Expenses 
With IDP solutions, businesses can process large volumes of data efficiently and accurately. The need for human interaction with data is reduced or eliminated, dramatically lowering labor costs and providing opportunities for redirecting human resources to high-value activities that require a personal touch. 
Straight Through Processing 
IDP solutions allow businesses to take advantage of Straight Through Processing (STP) and minimize the need for professionals to process documents manually. Countless processes are handled electronically and automatically. 
Ease of Use
IDP is a user-friendly solution to implement and integrate into operations. With IDP, businesses can launch, run, and grow with more ease. 
Enhance Efficiency 
With IDP, businesses benefit from end-to-end automation of all document-related processes. Processes are more efficient from the very beginning of the document lifecycle, and the efficiencies will only increase as the IDP learns the business processes. 
Increase Data Accuracy 
Manual and traditional processes expose businesses to errors and risks. Because IDP uses AI, companies benefit from an increase in data accuracy attributed to reduced errors and a dramatic increase in data visibility. 
Improve Customer Experience
With IDP, businesses have instant access to documents and data that help deliver quality customer experiences. For example, sales representatives can use IDP to glean insights into customer behaviors and preferences to personalize sales pitches and customize quotes. 
Drive Business Growth 
The ultimate benefit of an IDP solution is that it drives business growth. With more time, cost savings, more efficient use of resources, improved data accuracy, and more, businesses can eliminate the need to spend time on mundane, repetitive tasks and shift the focus to business growth objectives. 
When To Use Intelligent Document Processing
Across every industry, businesses are working to do more faster and with fewer resources while also improving the experiences of both employees and customers. Companies can use Intelligent Document Processing to improve margins, revenue, and retention. Here are a few examples of Intelligent Document Processing applications: 
Supply chain - accounts payable and invoice processing
Logistics route - optimization, back-office processes, and shipment tracking
Financial services - loan processing, trade finance, and compliance
Insurance - claims processing and policy administration
Legal - due diligence and contracts
Healthcare - patient registration and revenue management
How to Get an Intelligent Document Processing Solution for Your Business
If you do not have an IDP solution in place, it can be challenging and overwhelming to know where to begin. Here at FabSoft, we make document processing as straightforward as possible so you can focus on what matters most - your business. 
Our Fab-Connect Suite delivers practical, cost-effective software solutions that intelligently capture and distribute transactional documents across businesses of every size. Since 1992, we have been an industry leader in document capture solutions, helping companies of all sizes greatly reduce their operating costs while maximizing business productivity. Our document processing solutions have evolved over the years to suit the growing needs of any organization. For this reason, there is no printing or scanning challenge too large or too complicated for the Fab-Connect Suite. With over 150,000 successful installations, FabSoft solutions have been implemented into the daily operations of many prominent businesses all over the world. 
To experience first-hand how our Intelligent Document Processing can benefit your business, Book a Demo with us today!